"Massive red body. Is often mistaken for a giant octopus, however the Akkorokamui has claws at the end of each of its 12 legs. There have been several sightings, but only one actual Troop engaged the creature (Kau-Chun, TAIWAN - 1391 B.C.)"
―The Troop official site's description of the Akkorokamui
Akkorokamui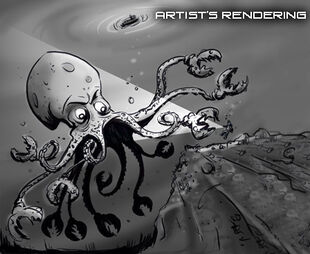 Appearance(s):
None
Height:
75'-115' tall
Weight:
unknown
Special Abilities:
Moves extremely quickly through water
Able to destroy almost any water craft in minimal time.

Akkorokamui are massive, red, octopus-like monsters with claws at the ends of their tentacles.
Appearance
Edit
An Akkorokamui resembles a massive, reddish octopus with twelve massive tentacles which each end in claws.
Special Abilities
Edit
Akkorokamui can use their tentacles to drag down any water craft in a matter of minutes if not seconds.