"Up to 50 feet high, these monsters hide themselves as mountain ridges. They are extremely destructive; great caution must be taken when approaching these nearly indestructible beasts. Their only weakness is a small area located under their granite-like arm; only if hit exactly can the Behemoth be defeated."
―The Troop official site's description of the Behemoth
Behemoth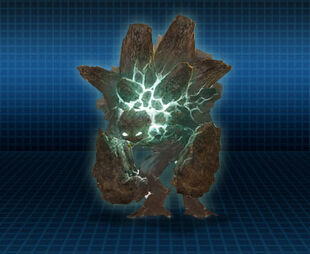 Appearance(s):
Height:
30-50 feet
Weight:
unknown
Special Abilities:
Nearly indestructible

Behemoths are massive, destructive monsters which are extremely powerful, and nearly indestructible.
Offenbar ist es noch nie gelungen einen Behemoth zu fangen.
Retired Troop member Lance Donovan discovered a Behemoth living in the woods near Lakewood, living on frozen lasagne from a nearby abandoned lasagne factory.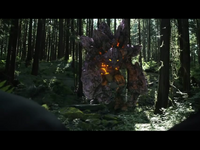 After two failed attempts to capture the Behemoth, Lance and
Jake
were able to corner it in the lasagne factory and Jake, with Lance's assistance, was able to destroy it.
In the Monster World, several monsters, including a Behemoth, attack and corner Jake, Hayley and Cadence.
Cadence distracts the monsters long enough for Jake and Hayley to sneak past them to a portal. When the monsters notice, they launch an attack and chase after the three. However, the three escape through the portal, which closes behind them before the monsters can follow them through.
Behemoths are very destructive and crave frozen lasagne and other hard foods.
Appearance
Edit
Behemoths look like large, humanoid giants made of slabs of rock with an orange glow from inside their bodies and round heads with two small, orange eyes each.
Special Abilities
Edit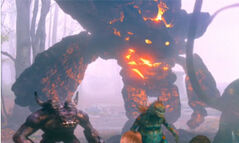 Behemoths are massively strong monsters.
Weaknesses
Edit
If a Behemoth is hit directly, it's body will break apart into rocks. Behemoths also appear to be slow-moving creatures, making them relatively easy to escape or outrun.
There is a special kind of Behemoth which only appears once every fifty years, and is ten times the size of a normal Behemoth.
The Behemoth bears a strong resemblance to the LEGO rock monsters from the "Power Miners" line of sets.
There is also a resemblance to the Magmadon from the video game "Crash: Mind over Mutant"