"Two types of Chupacabra have been recorded. The primary, Ordinary Chupacabra, is a bat-like dog beast that feeds off the blood of its victims. It is relatively easy to detect and capture. The secondary, Unique Chupacabra, looks the same, but has a scaly, colorful underbelly. Unlike the Ordinary, the Unique feeds off the essence of the victim. Its victims are left alive, but looking quite unattractive."
―The Troop official site's description of the Chupacabra
Chupacabra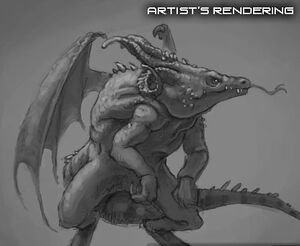 Appearance(s):
None
Height:
2-3 ft high, 3-4 feet long
Weight:
50-85 lbs
Special Abilities:
Elusive
Sucks the blood or essence from its victim

Chupacabras are elusive, dragon-like monsters. There are two known types of Chupacabra: the Ordinary and the Unique Chupacabra. While Ordinary Chupacabras suck the blood of their victims, Unique Chupacabras suck their life essence; the process leaves the Uniques' victims alive but ugly-looking. Unique Chupacabras can be told apart from Ordinaries by their colourful underbelly.