"At first glance, the Danker looks like nothing more than a slimed dog. But be careful of its razor-sharp extending tongue that can slash out at anything or anyone that gets too close."
―The Troop official site's description of the Danker
Danker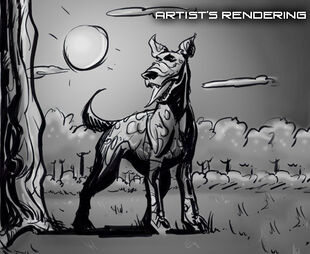 Appearance(s):
Height:
1'-1.5'
Weight:
8-14 lbs
Special Abilities:
Razor tongue

Dankers are canine monsters with razor-sharp tongues.
At an unknown point, a Danker was captured by the Lakewood Troop.
Felix invents a device which translates English to the languages of monsters and vice versa, which Jake uses to befriend the captive Danker. The Danker escapes when the security grid crashes and is recaptured.
When Mr. Stockley returns, the Danker tries to blurt out what had transpired while he was gone, but Felix quickly turns off the translator.
Appearance
Edit
The Danker looks seemingly like an ordinary dog, except according to the Troop Grid, it has a razor-sharp tongue, and it is shown to have glowing, white eyes.
Special Abilities
Edit
According to the Danker's profile on the official Troop site, it has an extendable, razor-sharp tongue.
to be added
of its apperence its a reference of the old movie cujo since they are both evil caines who kill