Eris Returns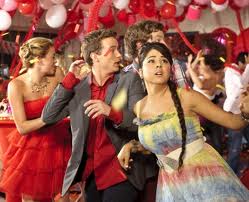 Season:
2
Episode:
9
Director:
Pat Williams
Writer:
Julia Ruchman
Original air date:
2012
Production No:
210
Previous Episode:
Next Episode:
Cecilia, an Eris Fairie arrives and mistakes Etienne for Felix and they become a couple. Cecilia's ex-boyfriend, Tod comes from the monster world to get her back and get rid of Etienne. Meanwhile, Jake tries telling Hayley he has a crush on her.
to be added
Appearances
Edit
Characters
Edit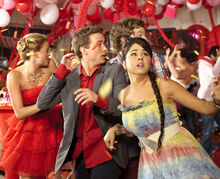 This episodes confirms that the Eris Fairie is a species, rather than a single monster.
Cecelia is the sister of the Eris Fairie from season 1, which is ironic because Daniella Monet and Victoria Justice play sisters in Victorious too.
This episode takes place exactly one year after Speed, as both Speed and Eris Returns take place on Valentine's Day.
This episode appears to take place between The Monster Within and It's All in the Game, as in this episode, Felix has already left the Lakewood Troop, but Kirby has not come to Lakewood yet as his replacement.
The reason Victoria Justice didn't return as the Eris fairy from "Speed", is busyness in her schedule.