"These pesky monsters are often responsible for forest fires, as they love to burrow under dying trees and then emit fire blasts from their backs. They love intense heat and are immune to fire. Capturing one is very challenging because if they are captured incorrectly, they explode immediately. The awful smell from their gooed carcasses has been known to attract the almost impenetrable monster, Repticore."
―The Troop official site's description of the Fire Salamander
Fire Salamander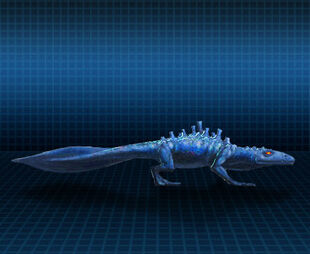 Appearance(s):
Height:
0.8-1 ft
Weight:
20-35 pounds
Special Abilities:
Foul odour upon destruction
Fire producer

Fire Salamanders are salamander-like monsters which can release fire from the spouts on their backs.
Jake, Hayley and Felix attempt to capture a Fire Salamander, but when Hayley and Felix's plan fails, Jake, overcome with arrogance, captures the Salamander in his backpack, causing it to explode.
The Salamander goo remaining soon after attracts a Repticore.
The Great Pumkin
Ein Feuersalamander befindet sich unter den gefangenen Monstern, die durch den Stromausfall entkommen können. Man sieht wie er mit den anderen Monstern entkommt.
Er wurde vermutlich wieder eingefangen.
Behaviour
Edit
According to the Troop official site, Fire Salamanders locate dead trees, burrow under the roots, and spout fire up the dead tree's trunk.
Appearance
Edit
Fire Salamanders are blue, lizard-like creatures with orange eyes and spouts on their backs.
Special Abilities
Edit
Fire Salamander can burrow under trees and create powerful fire blasts from the spouts on their backs.
Weaknesses
Edit
If a Fire Salamander is improperly contained, it will explode.
The Fire Salamander is only ever glimpsed onscreen.