"These slobbering, large-mouthed beasts are not particularly dangerous creatures except for the fact that their cry attracts other monsters."
―The Troop official site's description of the Gibbering Troolis
Troolis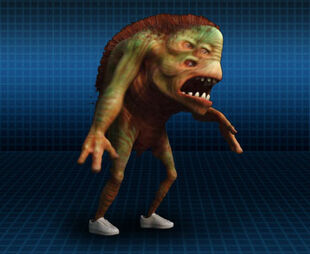 Appearance(s):
Height:
6-7 feet
Weight:
250-350 lbs
Special Abilities:
Cry attracts other monsters
Gibbering Troolis is a species of monster with a call that attracts other monsters.
At an unknown point, a Gibbering Troolis was captured by the Lakewood Troop.
It is among the captive monsters which escape courtesy of a power failure.
It roams the streets of Lakewood, and sees Felix wearing a Gibbering Troolis costume. Mistaking him for a real Troolis, it falls in love with him and begins following him around until Felix lures the Troolis into the basement of Hayley's haunted house, where its cry attracts the other escaped monsters into a trap laid by Jake and Hayley.
When Felix removes his costume to reveal he is human, he retreats. Moments later, a Ratadon retreats to the basement and is trapped inside with the Troolis and Phoebe, where the two monsters are beaten up by each other and Phoebe takes bake her Halloween candy.
The two monsters were presumably recaptured moments later with the other monsters.
Behaviour
Edit
When the Gibbering Troolis finds a mate, it will follow it everywhere and stick its tongue in the mate's ear. It is also natural enemies with the Ratadon and Helmatrops
Mit seines Rufs lockt der Gibbering Trooli andere Monster in seinen Bau, woraus zu entnehmen ist, das er sich trotz ungefährlich für Menschen, von anderen Monstern ernährt.
Appearance
Edit
Large, light brown and green-skinned humanoid with three fingers on each hand, six eyes, and red hair on its back.
Special Abilities
Edit
The Gibbering Troolis's call attracts other monsters.And though bieng a weaker monster, it can beat up a Ratodon.
Weaknesses
Edit
Troolises are one of the less dangerous monsters.
The picture of the Gibbering Troolis on the Troop official site is actually Felix in his Troolis costume (evidenced by his visible trainers).