"Griffins are enormous half-bird, half-beast creatures with the strength to grab a buffalo and fly away with it. Griffins are one of the "Five Most" dangerous and elusive creatures ever known to the Troop. It is no easy task, but taking down one of these nasty creatures brings great honour and awards to the Troop member able to do so."
―The Troop official site's description of the Griffin
Griffin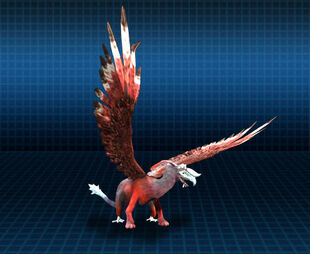 Appearance(s):
Height:
7-8 ft high, 30 ft wingspan
Weight:
unknown
Special Abilities:
Massive strength
Extremely elusive
Flight

Griffins are giant, half-bird, half-beast-like monsters. They are one of the "5 most" dangerous monsters known to the Troop.
A Griffin was apparently living off cattle at a farming ranch, taking them back to its nest to be devoured.
It eventually takes and eats a cow called Buttercup, and later Hayley and Felix due to Felix's meat necklace.
It soon returns to its nest, and attempts to eat a baby Snark called Elroy, but is stopped when Jake lures it out of the nest with Elroy.
The Griffin then returns to the nest to eat Hayley, only for her to avenge Buttercup by blowing the Griffin up mid-flight with the Blaster.
Appearance
Edit
iiii Griffins resemble a cross between an eagle and an unknown quadrupedal beast.
Special Abilities
Edit
Griffins are extremely strong and powerful.
Weaknesses
Edit
Griffin are apparently vulnerable to direct pulse blasts.