"The Helmatrop is a type of Ratadon, a rhino-sized monster that loves nothing more than to bash and mash down anything in its path. Its greatest enemy is the Gibbering Troolis and if these two monsters begin to fight, it's almost impossible to stop the destruction."
―The Troop official site's description of the Helmatrop
Helmatrop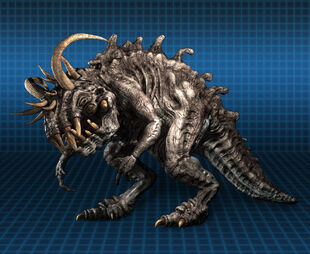 Appearance(s):
Height:
4-6 feet
Weight:
1000-2000 lbs
Special Abilities:
If disturbed, will gore or stamp to death its foes

Helmatrops are large, destructive monsters, and natural enemies of Gibbering Troolises.
A Helmatrop appears in a Troop training simulation.
Behaviour
Edit
When a Helmatrop is disturbed, it will gore or stamp everything in sight to death. It is also natural enemies with the Gibbering Troolis.
Appearance
Edit
Helmatrops resemble large, grey, dinosaur-like creatures with large teeth and horns.
Special Abilities
Edit
The Helmatrop is very strong and powerful.
The Helmatrop is very similar in appearance to its cousin, the Ratadon.
The Helmatrop is the most iconic monster which does not appear properly in the show (as it only appears in the season 1 opening sequence and a training simulation).