"Monsters with a large wingspan, they are often mistaken for something quite dangerous. But Huggie Bears are very mild creatures who simply like to hug."
―The Troop official site's description of the Huggie Bear
Huggie Bear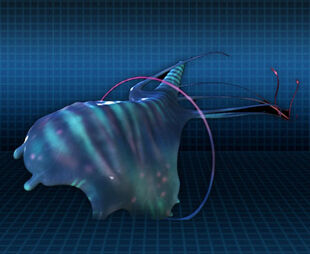 Appearance(s):
Height:
5 feet by 9 feet
Weight:
65-90 lbs
Special Abilities:
Flight
Intense desire to hug

Huggie Bears are manta ray-like monsters which like to hug and tickle other creatures.
A Huggie Bear is allowed into the Human World by Gus via Dimension Mites, and hugs Felix. Felix gets the Huggie Bear off him and in his backpack, and arrives at Jake's house. Felix releases the Huggie Bear on a Quadro-Gob, which distracts the Quadro-Gob long enough for Hayley to use the Mites to open a new portal and send both monsters through back to the Monster World.
Behaviour
Edit
Huggie Bears will grab and hug the nearest living creature.
Appearance
Edit
Huggie Bears resemble blue manta-rays.
Weaknesses
Edit
Though Huggie Bears can be highly distracting, they are apparently hearmless monsters.
to be added