Husking Drak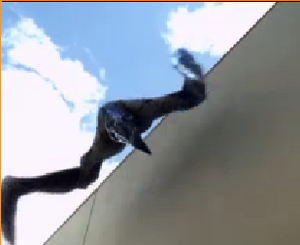 Appearance(s):
Height:
14 feet (estimated from size of halved body)
Weight:
Unknown
Special Abilities:
Durability
 Husking Draks are powerful monsters.
At an unknown point, what appears to be a Husking Drak was captured by the Lakewood Troop. The captive Husking Drak is seen in a holding cell when the monster cells are revealed under the gym.
The Great Pumkin
Ein Schalendrache befindet sich unter den gefangenen Monstern die durch den Stromausfall entkommen können. Man sieht, wie er mit den anderen Monstern entkommt.
Er wurde vermutlich wieder eingefangen.
A Husking Drak appeared in Lakewood at an alley, and half of it was eaten by Cadence. When Jake, Hayley and Felix arrive to capture the Husking Drak, it ambushes them from above, but as it is only half of its body, they are able to easily defeat the monster by impaling it on a sign.
Appearance
Edit
The Husking Drak is dark blue, with a faceless, triangle-shaped head, and long, thick arms ending in triangle-shaped appendages. However, this is only the front half of its body, as the back half is unseen.
Special Abilities
Edit
According to Mr. Stockley, Husking Draks are difficult to defeat.
Weaknesses
Edit
A Husking Drak is weaker and much easier to capture or kill when its body is bisected.