Kloxnixonanilsus (Klox)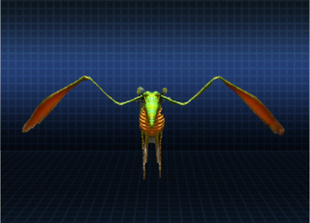 Appearance(s):
Height:
Varies
Weight:
Varies
Special Abilities:
Flight
Feeds on gas
Can produce fire and create explosions
The Kloxnixonanelsus, also know simply as the Klox, is a dangerous monster which feeds on gas and produces explosive fire.
A Kloxnixonanelsus attacked Lakewood, and when it was unable to find a portal back to the Monster Dimension, it began feeding off any gas it could find. When it grows so big and powerful from consuming gas, after two failed attempts to destroy it, the Troop set up a nest for the Klox in the Lakewood hall. Jake, Hayley, Kirby and Cadence pretend to be chicks, causing the Klox to believe it is in its real nest and destroy itself.
Appearance
Edit
The Kloxnixonanelsus is green with a yellow underbelly, and has two wings with sharp ends. It also has a small head with two red eyes on stalks, and a short, trunk-like snout.
Special Abilities
Edit
The Kloxnixonanelsus feeds on noxious gas, and grows bigger with the more gas it consumes. It can also create fires and explosions.
Weaknesses
Edit
If a Klox is tricked into thinking it is in its nest, it will destroy itself in one last feeding.