Oh, Brother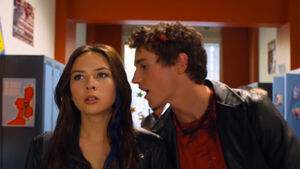 Season:
2
Episode:
5
Director:
Jon Rosenbaum
Writer:
Max Burnett
Original air date:
July 23, 2011
Production No:
208
Previous Episode:
Next Episode:
Jake and Hayley seek a temporary teammate during Felix and Kirby's transition, so they recruit Etienne and try to show him how everything works. Etienne thinks the Troop is fun and he's always trying to flirt with Hayley which does not work out.
Meanwhile, Cadence's brother arrives and causes chaos. When he eats a police officer, Hayley blames Cadence and tells Jake her secret.
This episode is mainly for Jaey, after Chino chokes Hayley, causing Jake to worry and defeat Chino. He rushed over to the unconsious Hayley praying she is not hurt. She is fine, though. Later on in the epesiode. Candace throws Hayley to the shelf, knocking her out. In the end, Hayley is harmed, not too bad, though.
Appearances
Edit
Characters
Edit
This is first time that a cast member from the series was absent and its the first time that Matt Shively didn't not appear in a episode of a Nickelodeon series, he did not miss an episode in his other series True Jackson, VP.

Kirby was absent for this episode, because he was trapped inside a titanium time machine until the end of the next episode.
Jake learns Cadence secret
Matt Shively is absent.
Jake and Cadence almost kiss.
Jake look sad at the end of the episode because he sent Cadence back to the 'Monster World'.