"Not only are Quadro-Gobs some of the most aggressive monsters known to the Troop, they also have an extending snapping mouth that makes them extremely dangerous as well."
―The Troop official site's description of the Quadro-Gob

Quadro-Gobs are vicious and deadly, spider-like monsters.
A Quadro-Gob is allowed into the Human World by Gus via Dimension Mites.
It attacks Jake, but is distracted by a Huggie Bear long enough for Hayley to use the Mites to open a new portal and send both monsters through back to the Monster World.
A Quadro-Gob is attracted to the Lakewood Mental Hospital by Gus's monster magnet, along with a Locht and a Kaiju, and attacks and presumably kills the doctors there.
In the Monster World, several monsters, including a Quadro-Gob, attack and corners Jake, Hayley and Cadence.
Cadence distracts the monsters long enough for Jake and Hayley to sneak past them to a
portal
. When the monsters notice, they launch an attack and chase after the three.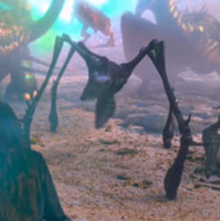 However, the three escape through the portal, which closes behind them before the monsters can follow them through.
Appearance
Edit
Quadro-Gobs are each dark blue, each have a long, pointed snout containing sharp teeth, a Xenomorph-like inner-jaw, a spider-like abdomen and thorax, four round, black eyes, a unicorn-like horn, and four spider-like legs.
Special Abilities
Edit
Quadro-Gobs are shown to have an extending, inner-jaw similar to that of the Xenomorph from Alien, which they use to attack prey. They are also highly agile and very dangerous.
Weaknesses
Edit
Quadro-Gobs can be easily distracted by Huggie Bears.
This is one of the few monsters that is never named on-screen.