"The Repticore is a massive beast with an almost indestructible hide. Their tentacles are quick to strike their victims. They then pull their prey into their massive mouths. Once eaten, a Repticore's victim remains alive for almost a week until they are fully digested."
―The Troop official site's description of the Repticore

Repticores are massive, reptilian monsters which are attracted by Salamander goo and eat their victims alive and whole.
Repticores have apparently not appeared since the early 20th century due to a lack of Salamander goo (There Is No "I" in Monster Hunter). However, this is contradicted when Jake states that Lance is awarded for defeating three Repticores. (Tentacle Face)
Salamander goo attracts a Repticore, which (offscreen) eats a dog called Lindsey.
The Repticore then follows the smell of the Salamander goo on a Mr. Cawyer's handkerchief to a market, where it eats him.
Later, Jake uses Salamander goo to lure the Repticore into an ambush, but Jake's arrogance allows the Repticore to easily overpower and eat him.
Hayley and Felix arrive, and Hayley distracts the Repticore for a while, until it grabs her. It is about to eat her when Felix fires a bomb through its mouth and into its stomach. The Repticore releases Hayley, and the bomb inside it detonates, causing it to explode from the inside out.
A Repticore is among the captive monsters which escape courtesy of a power failure. It is seen answering the Troolis's call. It was presumably recaptured with the other monsters.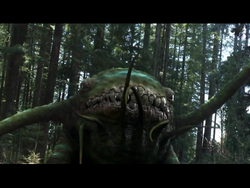 In the
Monster World
, several monsters, including a Repticore, attack and corner Jake, Hayley and
Cadence
.
Cadence distracts the monsters long enough for Jake and Hayley to sneak past them to a portal. When the monsters notice, they launch an attack and chase after the three. However, the three escape through the portal, which closes behind them before the monsters can follow them through.
Behaviour
Edit
Repticores are dangerously attracted by the smell of Salamander goo, and possess a massive appetite.
Appearance
Edit
Repticores are massive, green, reptilian beast, each with a thick, long tentacle in place of each arm, massive jaws, five tendrils on their chin, and black eyes.
Special Abilities
Edit
Repticores are very strong, have an almost indestructible hyde, and can swallow live victims whole!
Weaknesses
Edit
Repticores walk slowly and can be destroyed from the inside. Their fearsome attraction to Salamander goo can also easily lure them into ambushes.