This article's title is a nickname based on evidence.
Tail Monster
No image available
Appearance(s):
Height:
6 Fuß ( Länge des Schwanzes)
Weight:
Unknown
Special Abilities:
Tail is able to live separately from its body

The Tail Monster is an unknown monster, and one of the captive monsters which escaped in The Great Punkin.
At an unknown point, a Tail Monster was captured by the Lakewood Troop.
It is among the captive monsters which escape courtesy of a power failure.
Jake sees the monster escaping from the monster prison, and grabs it by its tail, accidentally ripping it off. When the tail moves in Jake's hands, he tosses it away in disgust. The monster's tail then slithers away.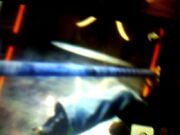 Appearance
Edit
The monster's tail, as its name suggests, is the only part of the monster seen. It resembles an aqua vine with a bulb at the end, and dark-blue blood.
Special Abilities
Edit
The monster's tail is able to remain alive when separated from the monster.
Schwächen
Schwanzmonster scheinen harmlos zu sein ( Belegt durch die Tatsache, das es Jack nicht angriff, als dieser es am Schwanz packte.)
Trivia
Die Beschaffenheit des Schwanzes lässt vermuten, das es sich um ein Reptil handelt, möglicherweise eine Eidechse, welche ihren Schwanz freiwillig abwerfen kann, da Jack diesen auffallend mühelos abreisen konnte.