The Monster Within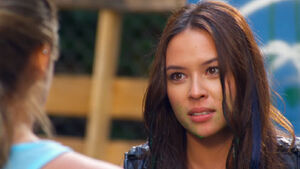 Season:
2
Episode:
2
Director:
Jon Rosenbaum
Writer:
Shawn Simmons
Original air date:
July 2, 2011
Production No:
205
Previous Episode:
Next Episode:
Hayley becomes suspicious of the new bad girl, Cadence. Whenever she's near Cadence, her Troop Grid goes off. Later, she see's Cadence drinking blood from a monster behind the dumpster. Cadence makes Hayley promise not to tell anyone she's half-monster, Hayley agrees not to. When Felix is dared by a bully to punch him, a monsters passes by at super-speed, knocking the bully aside and making people believe Felix did it and is a bully stopper.
to be added
Appearances
Edit
Characters
Edit
This is David Del Rio's last appearance as a main character
David Del Rio left the cast this season due to other commitments
Although this is aired as the second episode, it's production code is 205 making it the Episode 5 but Nick does air out of production order.