"At first, the Zylork's bite doesn't seem to do much damage, but as the Zylork's poison works its way into the bloodstream, the victim begins to marinate, and is compelled to return to the Zylork to become its next meal."
―The Troop official site's description of the Zylork
Zylork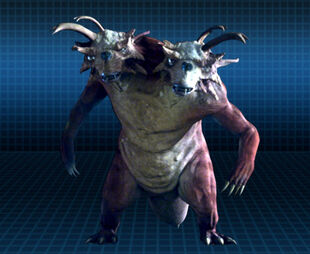 Appearance(s):
Height:
12 feet long
Weight:
200-450 lbs
Special Abilities:
Bite delivers poison that causes victim to marinate themselves for later consumption

Two-Headed Zylork, or simply Zylorks, are large monsters which have a venom that causes scratched victims to want the Zylork to eat them.
A Two-Headed Zylork, along with a Hideocute, were attracted to a toy factory by the fluff.
When Jake, Hayley and Felix attempt to capture the Zylork, its attack forces them to retreat, but not before it manages to scratch Hayley and Felix.
Hayley and Felix, overcome by the Zylork's venom, later return to the toy factory to be eaten by the Zylork, but the Zylork is forced to retreat when Jake intervenes, blasting and destroying the Zylork's right head.
Jake is able to lock the Zylork in a room, but it is freed by Hayley and Felix. However, before it can devour Hayley and Felix, its remaining head is blasted and destroyed by Jake, killing the Zylork.
In the Monster World, Jake discovers a clutch of Zylork eggs. The parent Zylork then attacks Jake, but is defeated by Cadence.
Behaviour
Edit
Once a Zylork scratches a victim, it refrains from attacking them before the venom takes effect, and waits at the place where the victim was scratched for it to return. They are also shown to be fiercely defensive of their eggs.
According to Hayley, the Zylork eats the victims it considers dinner with one head, and eats the victims it considers dessert with the other head.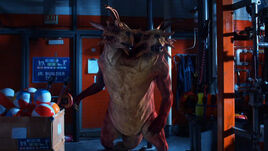 Appearance
Edit
The Zylork resembles a large, reddish-purple, humanoid, feline creature with two heads, clawed arms and legs, a massive body, and four antennae (two on each head).
Special Abilities
Edit
The Zylork's venom causes any scratched or bitten victims to smell delicious (like oranges and lemons in the case of a Hideocute, like chocolate cake in the case of Hayley, and like roast turkey and oregano in the case of Felix) and to marinate themselves and then return to the Zylork to be eaten by it. The venom also kills the victim unless they are either eaten by the Zylork, or cured in less than 24 hours from when they were infected.
Zylorks are also shown to be able to lay a considerably large number of eggs.
Weaknesses
Edit
If both of a Zylork's heads are destroyed, it will be killed.
They can lay up to 30 eggs at one time.
If one looks closely, the Zylork's file on Troop Grid depicts it as having dark-brown fur.