"Picture a four-foot long moth with vicious blood sucking fangs and the ability to deflect blaster shots with electromagnetic waves and you've got one dangerous monster. When dealing with this beast, take care to look out for a pinkish goo; that is the first sign the Vampire Moth has laid eggs."
―The Troop official site's description of the Vampire Moth
Vampire Moth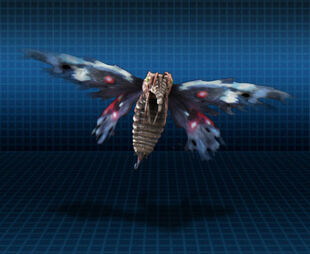 Appearance(s):
Height:
4 feet by 6 feet
Weight:
120-200 lbs
Special Abilities:
Blood sucker
Electromagnetic wave producer

Vampire Moths are large, blood-sucking, moth-like monsters. They produce a pink goo when they are laying eggs.
Behaviour
Edit
Vampire Moths mainly come out after midnight. They are attracted to light, like normal moths and unlike "human" vampires. They also have a thirst for blood like no other arthropod, mainly comsuming the blood of small children and outside pets.
Appearance
Edit
Vampire Moths resemble large, pinkish-purple moths, each about the size of a dog, with green eyes.
Special Abilities
Edit
Vampire Moths are extremely dangerous monsters. They have enough strength individually to lift a human being and can manipulate electromagnetic waves to block energy shots. They also produce a glowing, pink slime when they are laying eggs.
Weaknesses
Edit
Like human vampires, Vampire Moths have a weakness of light.