"The Vercingetorix is a Class 3 changeling whose initial appearance seems very meek as it looks like nothing more than a very ugly baby. But don't let its appearance fool you - at first chance the Vercingetorix will grab its victim, cocoon it up, and assume the victim's appearance."
―The Troop official site's description of the Vercingetorix
Vercingetorix (Verci)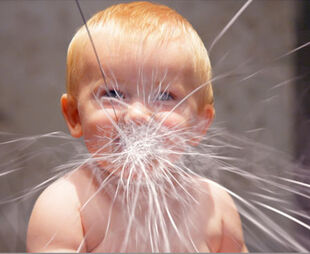 Appearance(s):
Height:
6 Fuß ( In seiner wahren Gestalt)
Weight:
9-12 lbs
Special Abilities:
Class 3 changeling
Intelligent
The Vercingetorix, also known as the Verci for short, is a shapeshifting monster and Class 3 changeling. They assume their victims' forms and impersonate them.
Behaviour
Edit
A Vercingetorix will find, capture, and cocoon a victim, and then assume its form and place.
It may also return to the cocooned victim to devour it.
Apperance
Edit
Vercingetorix weisen in ihrer wahren Gestalt eine große Ähnlichkeit mit LOCHTS auf, allerdings ist ihre rote Haut viel heller und sie besitzen nicht die Auswückse am Kopf des Lochts.
Special Abilities
Edit
Can Cocoon People and transform to a like clone of the person It Coccooned.
Weaknesses
Edit
When they assume the victim's shape, they do not get their knowledge, so someone who knows them well can spot out that he/she is a fake.
TRIVIA
1.) Vercis können über 200 Jahre alt werden.
2.) Viele Fans dachten fälchlicherweise, das Monster, das die Gestalt von Mister Brandenburg angenommen hätte, währe ein Locht gewesen. Tatsächlich war es jedoch der Vercingetorix aus I, Monster